Principle of operation:
The heart of the system is composed of three common fluorescent circular tubes, divided at 120° into three sectors, a hyperbolic mirror collects light of the lamps that is reflected by the secondary mirror like in a standard Newtonian telescope.
The sensor is then composed of nine sectors in groups of three detectors, the diagram below best explains operation: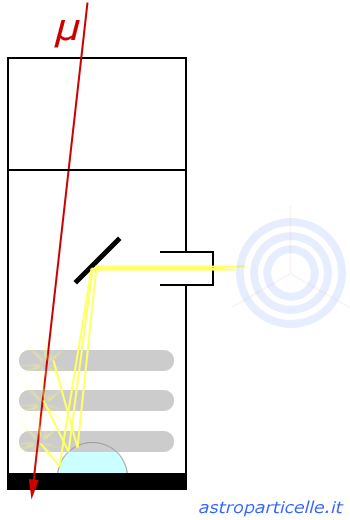 What appears to be looking into the eyepiece is visible in the animation, unlike other detectors which must be keept in complete darkness, this can be observed even in ambient light (better still obscure) because the pipes are enclosed into a dark room.
The brain of the detector was a real technical challenge to the boundaries between classical physics and quantum physics and even more interesting.
Suffice it to say that the impedance of the frames is several giga-ohms and the current to be detected is a few hundred nano-amperes. How do we teach the Heisenberg microscope, any attempt to measure impact on the experiment by making a change in behavior and sometimes stop working!
Ultimately, it was however found a safe and reliable system for tracking number.
When a muon passes through the detector at an angle not exceeding 12°, all the tubes are interested and will light on at least three areas, if the angle of incidence is between twelve and 27° light up the areas of two adjacent tubes, for upper angles of incidence only one tube will be affected, and then lights on.
For counting is considered as one muon at least two areas of coincident turn on of two adjacent tubes, (a field for each tube) but the instrument can be set to record any pulse received on any field.
A simple electronic counter records the pulses and an audio output is connected to a computer for counting and possible timing diagrams, there is indeed a very good freeware software, build for geiger counters, that fits perfectly this instrument.
It 'was then set up a serial RS232 for future development of a dedicated hypothetical software.
Technique:
For high voltage have been found other low-cost solutions, such as power supplies for lamps (CCFL in LCD laptop) or the shoe-killing mosquitoes with the appropriate changes, but in the end are yet been used the circuits for the flash-lamps for the characteristic of being extremely stable and keeping the output voltage value constant regardless of the state of battery charge.
Three sensitive photodiodes capture the low light flashes that generate the muons by means of an ingenious contrivance, in fact the neon flashing are so weak that only expensive avalanche diodes or photomultipliers could perceive. Other systems of measurement are recognized ineffective or invasive or they lose the sense of emotional detector mentioned above.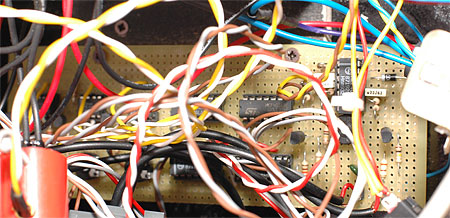 The logic of the detector is mounted on a breadboard and inserted into the top of the telescope tube with the high-voltage circuit and battery power.